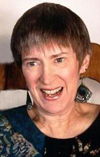 About Martha
Helping people through personal difficulties has been Martha's full time profession for over 25 years. Her experience includes extensive work in public and private mental health facilities, plus over ten years of independent private practice.
She has a graduate degree in social work from Indiana University, and licenses for independent private practice in Ohio and Kentucky (Ohio Licensed Independent Social Worker, #I4357, Kentucky Licensed Clinical Social Worker, #1716).
She is certified by the Academy of Certified Social Workers, and certified in clinical hypnosis by the American Society of Clinical Hypnosis. She obtained specialized training in the management of severe and sudden emotional trauma from the International Critical Incident Stress Foundation, Inc.
Martha is a member of the National Association of Social Workers, Ohio Clinical Social Workers, American Society of Clinical Hypnosis, and the Association for Applied and Therapeutic Humor.
In the past Martha had part-time careers as a professional weaver and college instructor.